Nothing but chaos awaiting filing here for now.
Fun keywords: Egocentric sampling, friendship paradox, majority illusion. 🏗
Majority Illusions and filter bubbles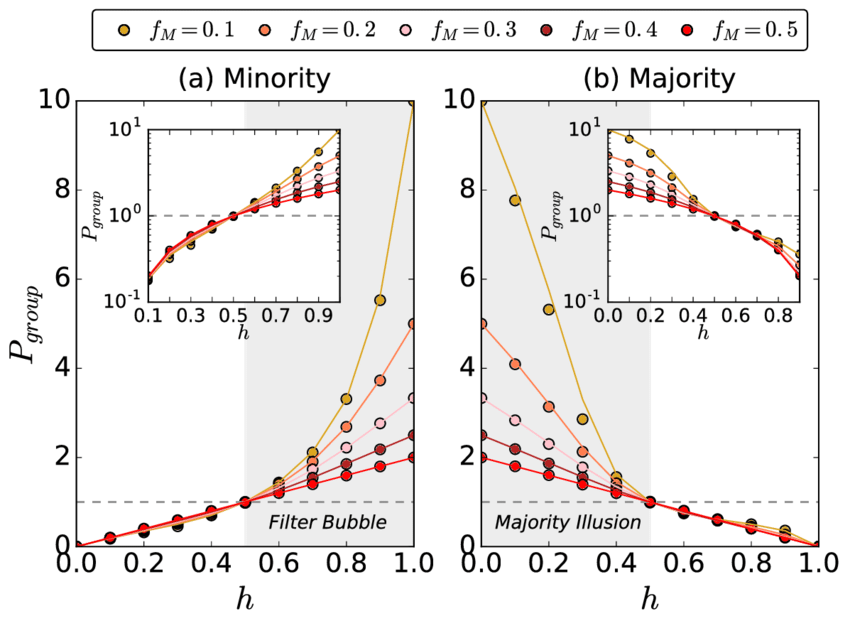 In homophilic networks (0.5 ≤ h ≤ 1), the minority overestimates their own size (filter bubble) and the majority underestimates the size of the minority. The insets show the same information on log scale to make the amount of underestimation and overestimation comparable. As group sizes become more disproportionate, perception bias increases. (Lerman, Yan, and Wu 2016)
This insight is one of those ones that seems trivial in hindsight, but people are terrible at articulating in advance.
To file
Cosma Shalizi, Return of "Homophily, Contagion, Confounding: Pick Any Three", or, The Adventures of Irene and Joey Along the Back-Door Paths and Experiments on Social Networks. See also his Neutral cultural networks stuff.
My colleague un UNSW, Pavel Krivitsky is highly productive in this area in this area, especially with Exponential family random graph model. (Hunter, Krivitsky, and Schweinberger 2012; Kolaczyk and Krivitsky 2015; Krivitsky and Morris 2017; Krivitsky et al. 2009; Krivitsky and Handcock 2014)
For models, specifically, of actual disease contagion, see Shalizi's review of Kiss, Miller, and Simon (2017).