Mapping Sydney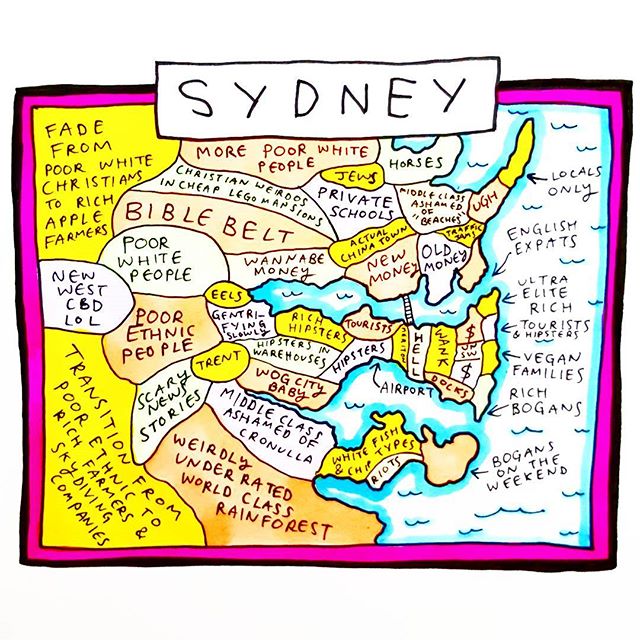 Past sydney
Current Sydney
Nature
There are lots of parks. they are really good. The ones that are easiest to get to are listed in Sydney Train Walks
Better future Sydney
Solar power
Less boring
Retirementland Sydney is hostile to parties (not just the method of political organising, also the joyous celebration of the human spirit) and we're doubling down on that.
I'd overheard some Spaniards calling Sydney 'El Cementerio' – 'The Cemetery' – and there was something sepulchral about the silent spaces. That look of desolation distinctive to the top of Oxford Street (the civic pockmark of empty storefronts and For Lease signs) was spreading all over the city. Taylor Square could have been hosting a memorial service, and in a way it was. Already the iconic Flinders Hotel, the Exchange Hotel – home to a number of venues – and Taxi Club had closed down, and the closest nightclub was to be replaced with a government-funded "family-friendly" cycle hub.
The political party organising around this is Keep Sydney Open. But then politics levelled up:
"Noel, noel is a great nostalgic Christmas carol that reminds me of a more simple time before coward punches, but it really needs to be enjoyed in moderation. It's interrupting my small town BBC murder mysteries. I'm a caucasian post-war Australian. I've never had to make a compromise in my life, and I don't plan on starting now."
Wowser Nation keeps the sarcasm going.
Real estate
The Tenant's Union has many campaigns.
Over 2 million people rent their homes in NSW. That's one in every three households. Many of these are families, as well as an increasing number of older people, and people sharing homes. … But the reality is that rental laws in NSW aren't fair. Renters don't experience the same security and comfort in their homes as homeowners. Many are constantly worried about losing their home and feel they are powerless to assert their rights.
The Sydney Alliance is a diverse coalition of community organisations, religious organisations, unions and schools that uses the tools of community organising to make the city a better place to live. The idea of building a Sydney Alliance was first raised in May 2007, and by November that same year was financially supported by 13 organisations. The Alliance launched with 45 partner organisations on 15 September 2011.The Alliance has three goals. We work with our partner organisations to:

Increase and strengthen the leadership capacity of their members, their leaders, and staff.
Deepen the relationships across civil society by strengthening the relationships between our partner organisations.
Act for the 'Common Good'.
For example
Since 2013 The Sydney Alliance has called on the NSW Government to support action on affordable housing through a plan, with numerical targets, to increase the supply of social and affordable housing in NSW. Our campaign has helped persuade the NSW Government to introduce 'Inclusionary Zoning' for affordable housing – but this is just the start.
Harm mininimisation in actually existing Sydney
Westconnex Action Group and Wendy Bacon's reportage cover some of the construction pile-on that is Sydney at the moment.
Berry, Vanessa. 2017. Mirror Sydney: An Atlas of Reflections.
Catanzaro, Michelle, and Elissa James. 2018. "Multiple Place/S: Exploring the Link Between Urban Politics and Rural Festival Environments." Journal of Place Management and Development 11 (3). Emerald Publishing Limited: 315–34. https://doi.org/10.1108/JPMD-07-2017-0069.