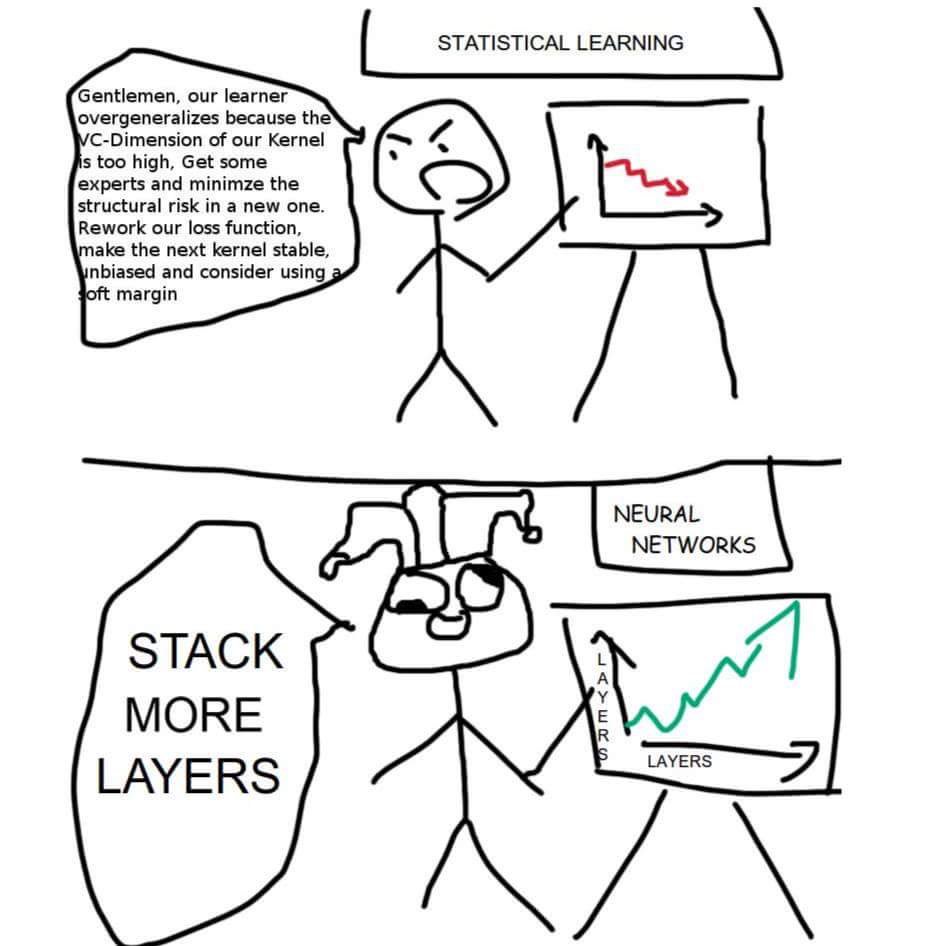 Modern computational neural network methods reascend the hype phase transition. a.k.a deep learning or double plus fancy brainbots or please give the department have a bigger GPU budget it's not to play video games I swear.
I don't intend to write an introduction to deep learning here; that ground has been tilled already.
But here are some handy links to resources I frequently use and a bit of under-discussed background.
What?
To be specific, deep learning is
a library of incremental improvements in areas such as Stochastic Gradient Descent, approximation theory, graphical models, and signal processing research, plus some handy advancements in SIMD architectures that, taken together, surprisingly elicit the kind of results from machine learning that everyone was hoping we'd get by at least 20 years ago, yet without requiring us to develop substantially more clever grad students to do so, or,
the state-of-the-art in artificial kitten recognition.
a metatstatizing buzzword
It's a frothy (some might say foamy-mouthed) research bubble right now, with such cuteness at the extrema as, e.g. Inceptionising inceptionism (Andrychowicz et al. 2016) which learns to learn neural networks using neural networks. (well, it sort of does that, but is a long way from a bootstrapping general AI) Stay tuned for more of this.
There is not much to do with "neurons" left in the paradigm at this stage. What there is, is a bundle of clever tricks for training deep constrained hierarchical predictors and classifiers on modern computer hardware. Something closer to a convenient technology stack than a single "theory".
Some network methods hew closer to behaviour of real neurons, although not that close; simulating actual brains is a different discipline with only intermittent and indirect connection.
Subtopics of interest to me:
Why bother?
There are many answers here.
Hip keywords for NN models
Not necessarily mutually exclusive; some design patterns you can use.
There are many summaries floating around here. Some that I looked at are Tomasz Malisiewicz's summary of Deep Learning Trends @ ICLR 2016, or the Neural network zoo or Simon Brugman's deep learning papers.
Some of these are descriptions of topologies, others of training tricks or whatever. Recurrent and convolutional are two types of topologies you might have in your ANN. But there are so many other possible ones: "Grid", "highway", "Turing" others…
Many are mentioned in passing in David McAllester's Cognitive Architectures post.
Probabilistic/variational
Generative Adversarial Networks
Recurrent neural networks
Feedback neural networks structures to have with memory and a notion of time and "current" versus "past" state. See recurrent neural networks.
Grid and other axial tricks
A mini-genre. Kalchbrenner, Danihelka, and Graves (2016) connect recurrent cells across multiple axes, leading to a higher-rank MIMO system; This is natural in spatial random fields, and I am amazed it was uncommon enough to need formalizing in a paper; but apparently it was and it did.
Transfer learning
Recycling someone else's features. I don't know why this has a special term - I think it's so that you can claim to do "end-to-end" learning, but then actually do what everyone else as done forever and works totally OK, which is to re-use other people's work like real scientists.
Spike-based
Most simulated neural networks are based on a continuous activation potential and discrete time, unlike spiking biological ones, which are driven by discrete events in continuous time. There are a great many other differences (to real biology). What difference does this in particular make? I suspect it means that time is handled different.
Kernel networks
Kernel trick + ANN = kernel ANNs.
(Stay tuned for reframing more things as deep learning.)
I think this is what convex networks are also?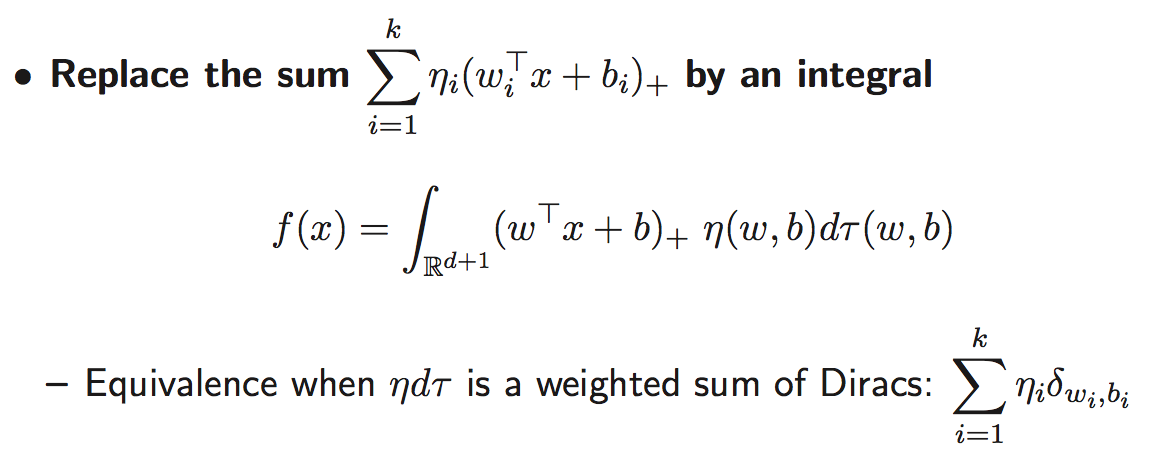 Bengio, Le Roux, Vincent, Delalleau, and Marcotte, 2006.
AFAICT these all boil down to rebadged extensions of Gaussian processes but maybe I'm missing something?
Autoencoding
🏗 Making a sparse encoding of something by demanding your network reproduces the after passing the network activations through a narrow bottleneck. Many flavours.
Optimisation methods
Backpropagation plus stochastic gradient descent rules at the moment.
Does anything else get performance at this scale? What other techniques can be extracted from variational inference or MC sampling, or particle filters, since there is no clear reason that shoving any of these in as intermediate layers in the network is any less well-posed than a classical backprop layer? Although it does require more nous from the enthusiastic grad student.
Preventing overfitting
Activations for neural networks
Practicalities
Various design niceties.
Managing those dimensions
Practically a lot of the time managing deep learning is remembering which axis is which.
Alexander Rush argues you want a NamedTensor. Implementations:
Einsum does Einstein summation, which is also very helpful.
Software stuff
For general purposes I use
I could use…
Intel's ngraph, which compiles neural nets esp for CPUs

Collaboratively build, visualize, and design neural nets in browser

Lua: Torch

MATLAB/Python: Caffe claims to be a "de facto standard"

Python/C++: Paddlepaddle is Baidu's nonfancy NN machine

Minimalist C++: tiny-dnn is a C++11 implementation of deep learning. It is suitable for deep learning on limited computational resource, embedded systems and IoT devices.

NNpack "is an acceleration package for neural network computations. NNPACK aims to provide high-performance implementations of convnet layers for multi-core CPUs."

NNPACK is not intended to be directly used by machine learning researchers; instead it provides low-level performance primitives to be leveraged by higher-level frameworks

USP: compiles to javascript.

javascript: see javascript machine learning

julia. various
pre-computed/trained models
Howtos
The internet is full of this. Here are some selected highlights.
Michael Nielson has a free online textbook with code examples in python. Christopher Olah's visual explanations make many things clear.
Andrej's popular unromantic messy guide to training neural nets in practice has a lot of tips that people tend to rediscover (I did)
It is allegedly easy to get started with training neural nets. Numerous libraries and frameworks take pride in displaying 30-line miracle snippets that solve your data problems, giving the (false) impression that this stuff is plug and play. … Unfortunately, neural nets are nothing like that. They are not "off-the-shelf" technology the second you deviate slightly from training an ImageNet classifier.