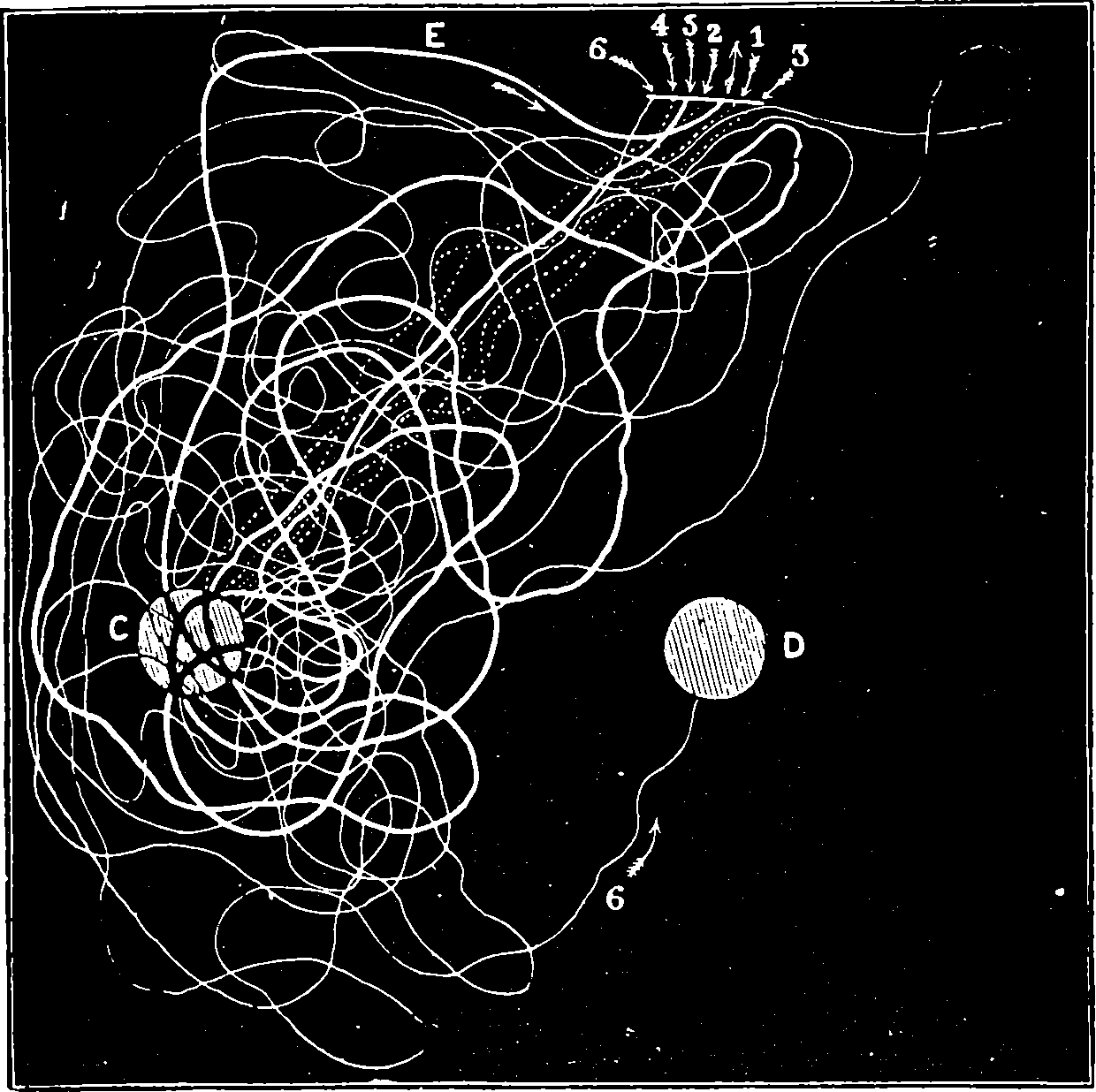 Programming with distributions over code branches, where the goal is to estimate the probability distribution of a certain output of interest. More specifically, what I usually use probabilistic programming for is Bayesian inference, and I think this is a common enough use that it is generally assumed. The program represents our random generative model, and conditioning upon the observed data gives us updated distributions over parameters, or prediction, or whatever.
By convention, when we say Bayesian programming rather than merely inference, there is an implied focus; I am indicating hope that my technique might succeed in doing inference for very complicated models indeed, possibly ones without tractable likelihoods of any kind, maybe even Turing-complete models. Usually I would not say this for a garden-variety hierarchical model, because that is not ambitious enough. Hope in this context means something like "we have the programming primitives to, in principle, possibly approximately, express the awful crazy likelihood structure of a complicated problem, and to do something that looks like it might estimate the correct conditional density, but also for any given problem we are on our own in demonstrating that it actually does solve the desired problem to the desired accuracy int he desired time."
Mostly these tools use Markov Chain Monte Carlo sampling, which turns out to be a startlingly general way to grind out estimates of the necessary conditional probability distributions, especially if we don't think about convergence rates too hard. Some frameworks enable other methods, such as classic conjugate priors for easy (sub-)models, variational methods of all stripes, including reparameterisation flows, and many hybrids of all of the above.
See George Ho of PyMC3/PyMC4 for an in-depth introduction into what might be desirable to solve these problems in practice.
A probabilistic programming framework needs to provide six things:

A language or API for users to specify a model
A library of probability distributions and transformations to build the posterior density
At least one inference algorithm, which either draws samples from the posterior (in the case of Markov Chain Monte Carlo, MCMC) or computes some approximation of it (in the case of variational inference, VI)
At least one optimizer, which can compute the mode of the posterior density
An autodifferentiation library to compute gradients required by the inference algorithm and optimizer
A suite of diagnostics to monitor and analyze the quality of inference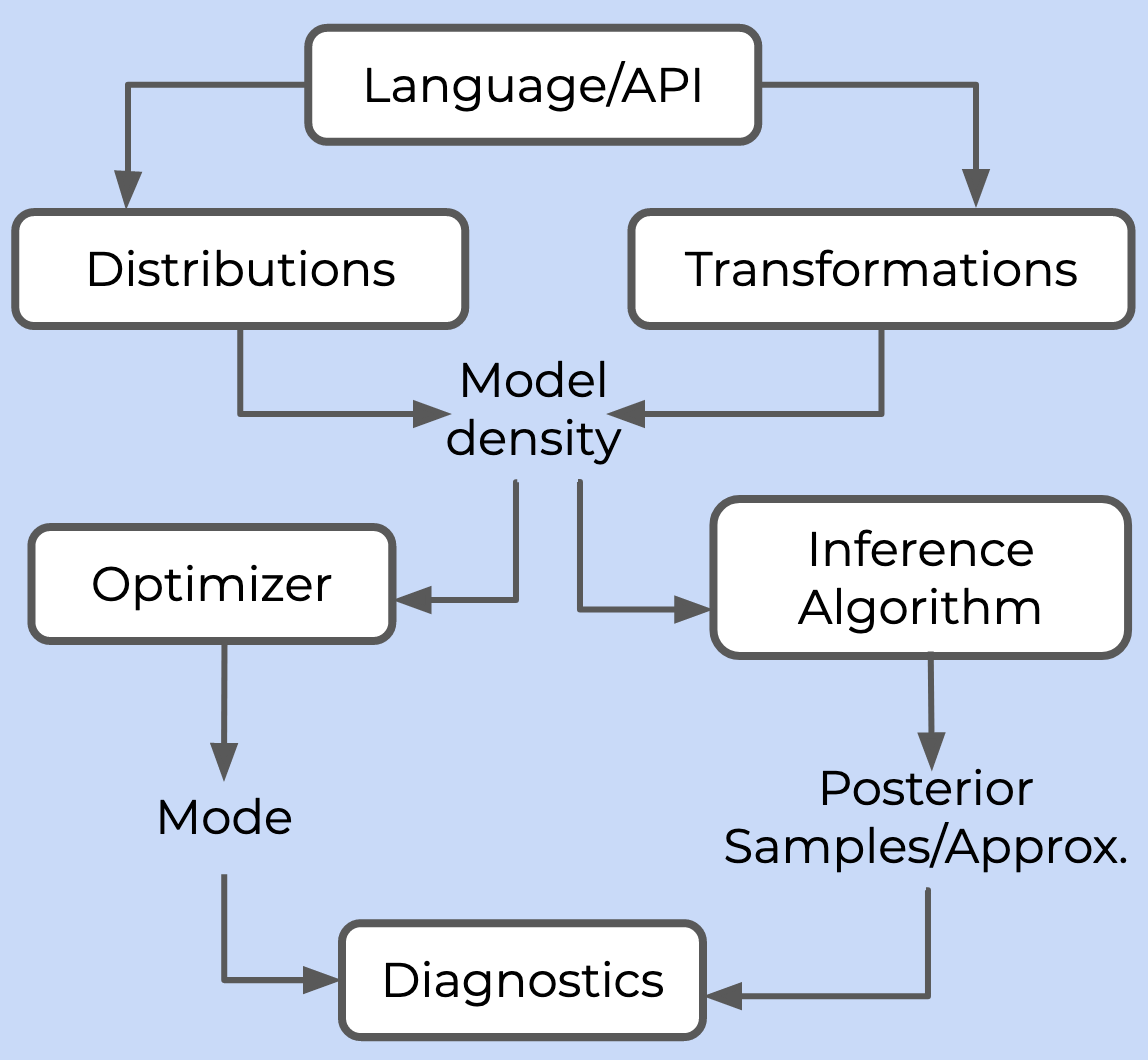 See also Col Carroll's overview of several trendy frameworks. This includes some I did not include here due to exhaustion and choice paralysis. Check the dates on all these; as a hip research area, there is a constant flux of new frameworks into and out of use.
For general introductions to how we might think about this, Kevin Murphy's books are popular. They are good at providing exhaustive details on particular applied models.
I found them a little confusing because the theoretical background takes a back seat; (Barber 2012; Bishop 2006) made it all much clearer to me.
Funsors
I've seen funsors mentioned in this context. I gether they are some kind of graphical model-inference abstraction. Do they do anything useful? Obermeyer et al. (2020):
It is a significant challenge to design probabilistic programming systems that can accommodate a wide variety of inference strategies within a unified framework. Noting that the versatility of modern automatic differentiation frameworks is based in large part on the unifying concept of tensors, we describe a software abstraction for integration —functional tensors— that captures many of the benefits of tensors, while also being able to describe continuous probability distributions. Moreover, functional tensors are a natural candidate for generalized variable elimination and parallel-scan filtering algorithms that enable parallel exact inference for a large family of tractable modeling motifs.

…This property is extensively exploited by the Pyro probabilistic programming language (Pradhan et al. 2018) and its implementation of tensor variable elimination for exact inference in discrete latent variable models, in which each random variable in a model is associated with a distinct tensor dimension and broadcasting is used to compile a probabilistic program into a discrete factor graph. Functional tensors (hereafter "funsors") both formalize and extend this seemingly idiosyncratic but highly successful approach to probabilistic program compilation by generalizing tensors and broadcasting to allow free variables of non-integer types that appear in probabilistic models, such as real number, real-valued vector, or real-valued matrix. Building on this, we describe a simple language of lazy funsor expressions that can serve as a unified intermediate representation for a wide variety of probabilistic programs and inference algorithms. While in general there is no finite representation of functions of real variables, we provide a funsor interface for restricted classes of functions,including lazy algebraic expressions, non-normalized Gaussian functions, and Dirac delta distributions.
Sounds like this lands not to far from message passing ideas?
MCMC considerations
Maybe see MCMC for now.
Toolkits
---
PyMC4, despite what you might think due to the jetsam of an earlier hype cycle, is discontinued in favour of PyMC3. AFAICT PyMC4 was intended to be a tensorflow-backed system, so this is some additional evidence that Tensorflow blighs every probabilistic programming system it touches.↩︎